Heather Simons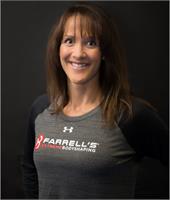 Member Since: 9-27-14
The reason I started Farrell's: I had done your basic running and elliptical down in the basement of my house or outside. I was looking for something different, something to push me. I am a little competitive with myself.…ok maybe more than a little with myself. I had heard about Farrell's from people and thought I would give it a try. I have never really been "out of shape", but Farrell's let me know right away I was not at my Level 10. Even thought I could run long distances, that meant nothing for what I was up against those first 10 weeks. I am stronger now, and getting stronger than I have ever been.
My favorite part of being an instructor: Helping others achieve their goals and feel better about themselves.
My favorite combo is: Jab, cross, switch foot, roundhouse
My favorite muscle group is: Triceps
My favorite music: Chris Hall's playlists
My favorite quote: I cannot do all the good that the world needs, but the world needs all the good that I can do.
Heather Simons instructs the following: