Tamara Thomas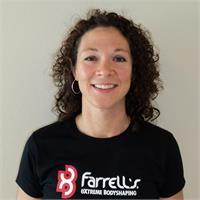 Member Since: 01-01-2008
I remember my husband Pat asking me my thoughts on moving from Des Moines back to Cedar Rapids to open a Farrell's eXtreme Bodyshaping location. The idea was scary, but very exciting! In June 2007 the Boyson Road FXB opened. It was a challenging start. Pat left the house by 4:30 in the morning and didn't come home until 7pm, not to mention I was pregnant with our third son. We now have four boys, under the age of 9, so leading a healthy lifestyle, feeling good and having lots of energy are a necessity for this mom!
We have never looked back and never had any doubts about the success of Farrell's eXtreme Bodyshaping! We feel very fortunate that our customers have embraced this program.
Prior to Farrell's I was in HR management and recruiting. Now I spend my days working out, instructing and working with the FXB team. It's a great way to spend the day!
Tamara Thomas instructs the following:
This is a cardio kickboxing class.